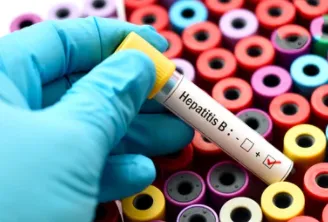 Hepatitis B is a viral condition that causes inflammation and damages in your liver which can create further problems in your organs. This condition can be spread person to person, specifically through contact with blood, semen, or other body fluids of a person that is infected. Here at the Digestive and Liver Center we want to help you get educated about this important topic.
Types of Hepatitis B
Acute Hepatitis B: This is a short term condition that mostly doesn't have long term symptoms. The symptoms only last over a week and in some severe cases it can be up to 6 months. The virus usually goes away by itself. When the body doesn't fight the virus on its own, it can turn into chronic Hepatitis B.
Chronic Hepatitis B: This type of infection is long term that usually happens when you're a child. Chronic hepatitis B, most of the time, is developed in infants between the years 1 through 5. In some rare cases chronic hepatitis B might be seen in adults. There can be complications when having this virus that may cause cirrhosis and liver cancer.
Symptoms
Usually, most people don't get symptoms with this condition. If people infected with this virus get symptoms, it would last for 2 to 5 months. A couple of symptoms that you might have are the following:
Fever
Nausea
Vomiting
Pain in the abdomen
Dark yellow urine
Gray stool
Ways you can get Hepatitis B
As was mentioned before, Hepatitis B can be spread by blood, semen or other body fluids. These are a few ways you can have contact with a person infected:
Be born by mother that is infected
Having sex with a person that has Hepatitis B
Sharing drug needles, razors, toothbrushes or nail clippers with an infected person
Having contact with the blood of a person who has the virus
Treatments for Hepatitis B
Not all of the time Hepatitis B needs to be treated. Doctors usually treat this condition if it's chronic and when they see that it can cause damage in the liver. There are a couple of antiviral medicines that doctors may prescribe. Since they can cause side effects, it's important you talk with your doctor to make sure you are getting the best treatment possible, according to your specific conditions.
Prevention
In order to prevent Hepatitis B, what is best recommended is to get the Hepatitis B vaccine. This vaccine has been available since 1980's for newborns, kids and young adults. In order to be completely protected, you have to get 3 shots over 6 months. Ask your doctor if the best option for you is to get vaccinated. If you have any questions or concerns, our GI experts in Orlando are here to help. You can go ahead and make an appointment with us at 407-384-7388